Registration & Accommodation
Accommodation in various price ranges nearby Harpa has been booked for participants since Reykjavik could be quite crowded during the conference period.
To secure the accommodation of your choice, we recommend that you submit your registration with hotel booking as early as possible.
Bookings are made directly via the registration form or send us an email.
Registration fee:
Early fee before 02 December 2019: ISK 59.000
Late fee after 02 December 2019: ISK 71.000
Student fee:
Early fee before 02 December 2019: ISK 45.500
Late fee after 02 December 2019: ISK 50.100
Per Brinck Symposium
2 March 2020, Reykjavik
The lability of ecological networks
Moderator: Dries Bonte, Ghent, Belgium
Kenneth Schmidt, Texas Tech University, USA  – The Evolutionary Ecology of Information in the Anthropocene
Pedro Peres-Neto, Concordia University, Montreal, Canada. – The unusual​ drivers of biodiversity in a changing world
Richard Michalet, University of Bordeaux, France,  – Shifts from mutualism to antagonisms along climatic gradients contribute to shaping the relationship between local and regional species richness in plant communities.
Jessica Forrest, University of Ottawa, Canada – TBA
Florian Altermatt, Univeristy of Zurich, Switwerland, – The Anthropocene's cascading effects on interspecific interactions, resource fluxes, and ecosystem level dynamics
Cost: 1500ISK
Terms and conditions
All payments are done via on-line credit card payments. Accepted credit cards are: VISA, MasterCard, Diners and AMEX. On-line payments are guaranteed through secured site.
Cancellation policy
Notification of cancellation should be sent to CP Reykjavik: oikos2020[at]cpreykjavik.is
Cancellation made before December 3 will be charged a service fee of ISK 12.000
For cancellations made after December 3, we regret that no refunds of registration fee can be made
Individual accommodation will be refunded if cancellation is made one week before arrival date (working days). Note the cancellation is not confirmed until you get e-mail confirming the cancellation.
The organizers cannot be held responsible for any financial loss resulting from exchange rate fluctuations.
Skuggi Hótel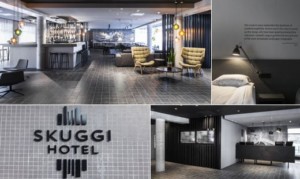 Hverfisgata 103, 101 Reykjavík
Skuggi Hótel is a brand new hotel in the city centre. Timeless, modest and clear-cut design reflects the style of the Hotel. At Skuggi hotel you will discover all the best that the Reykjavik has to offer, in addition to the exquisite service and excellent location.
The hotel features a hundred well designed rooms all equipped with standard amenities for a comfortable stay.
To see the exact location and distance between the hotel and congress venue click here.
Free wireless internet
Price
Single use: 21.300
Double use 23.600
Icelandair Hotel Reykjavik Marina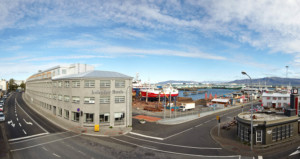 Myrargata 2, 101 Reykjavik

Marina is a 155 room hotel located in the up-and-coming downtown harbour district, the Icelandair Hotel Reykjavik Marina is not just another hotel in Reykjavik. Instead, this hotel delivers a more authentic Reykjavik experience, by synthesizing the city's rich maritime history with its, vibrant present day culture.
The hotel is probably the only hotel in the world where you can almost touch the huge vessels in the dry dock, but the main entrance of the hotel is on the north side of the hotel.
To see the exact location and distance between hotel and conference venue click here.
Free wireless internet
Price

Single use:  25.300 ISK
Double use: 29.900 ISK
Exeter hotel****
Tryggvagata 12, 101 Reykjavik
Exeter Hotel is a contemporary design hotel by the old Reykjavík harbour that offers local experience with all the perks of a hotel stay. The hotel's main building is a restoration of a house originally built in 1904 as a storage and later used as a house of residence and trade. Now renovated and linked to new and modern buildings the hotel's exterior is a tribute both to contemporary architecture and times when fishing and trade where the area's main industry.
Leading from the entrance to the back garden is an open floor plan that includes a restaurant, bar, lounge and reception. The ground floor high ceiling together with the open garden create a loft like feeling that connects the upstairs garden view rooms to the flow from the bustling street in the front.
Hotel is located in one of the up and coming areas of the capital where you can experience the funky mix of trade, retail, culture and locals right by the old harbour.
To see the exact location and distance between the hotel and congress venue click here.
Free wireless internet
Superior single use with breakfast ISK : 41.500
Superior double use with breakfast ISK: 42.600
Nordic Society Oikos
3-5. March 2020 Reykjavík